For over a century…
Grover/Trophy has been creating products used by professionals and amateurs, young and old, to make perfect music with unmistakable clarity and quality. From Rock & Roll Hall of Fame inductees to garage bands, and world-renowned orchestras to high school marching bands, those who know quality insist on Grover® Musical Products, The Trophy Music Co., and The Clevelander Drum Company for all their accessory needs.
1922
Our History Begins
It started in Cleveland, Ohio when Henry and Julius Grossman founded Grossman Brothers Music Company – wholesalers of musical instruments and accessories, located at West 2nd Street.  Soon after, their brother-in-law, Max Berger joined the company in the sales department, followed by his son Joseph Berger as a traveling salesman.
1923
Grossman Brothers Keep Growing
As their first location cannot contain the wholesalers' rapid expansion, they soon moved to larger quarters in 1923 on West 6th Street.
1925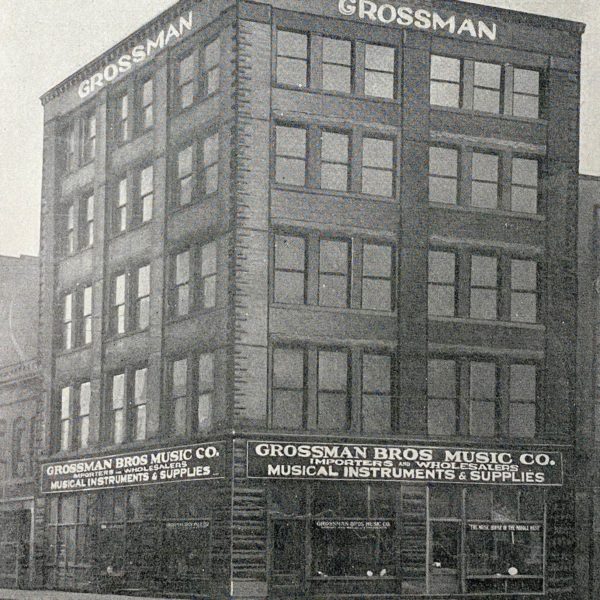 Bigger on Bolivar
Henry, Julius, Max, and Joseph once again find themselves in need of more space, and to relocate to a larger facility on Bolivar to accommodate the business' growth.
1949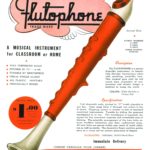 The First Flutophone
As the company grew, it began to expand into manufacturing, with the first production item being the Flutophone, a one-octave clarinet style instrument for children's introduction to music, which to date, has sold over fifty million units worldwide.  The Flutophone was originally molded at Trophy Plastics, a local company that Grossman acquired in 1949 and later changing the name to Trophy Music Company. Trophy began to manufacture several other musical toys, plastic novelty instruments.  Some of the more memorable items include the SousaFun, The Toy Trumpet, Hum-A-Zoo, and Slide Whistles, many of which can still be found in the market today.
Alongside these fun items, Trophy began to see an increase in demand for musical and educational products. Including the Flutophone mentioned above, Cambridge Recorders, Flip Folders, Sterisol, lyres, ligatures, swabs, batons, music stand lamps, and hundreds of other items went into production and began filling shelves nationwide.
1952
Grossman & Grover Become One
In 1952 Grossman purchased A.D. Grover & Son, which was established in the late 1800s by Albert Deane Grover, an innovator who earned more than 50 patents for musical instrument parts. Among its first products were guitar and banjo machine heads, followed by tuners for other fretted instruments along with the violin. Under the new management, the new, world-famous enclosed Rotomatic models were developed.
Grover is used by numerous manufacturers as original equipment as well as being available to the consumer as a replacement or upgrade item to their instrument. Besides machine heads, though, the Grover range extends to cables, the Grover Ultra Capo, and the Perfect Nut, along with a number of other stringed instrument accessories.
1955
Grossman Acquires Rogers Drums
In 1955, Rogers Drums was bought by the Grossman company and moved to Covington, Ohio. Under Grossman ownership, Rogers developed the Dyna Sonic snare drum and Swiv-o-Matic hardware soon to become a major factor in the percussion world. Rogers was endorsed by famous drummers such as Buddy Rich, Louis Belson, Roy Burns, and a host of others. After a decade of making Rogers, one of the best-selling drums in the world, the company was sold to CBS who began purchasing other instrument makers at the time.
The acquisition of A.D. Grover & Son and Rogers meant needing more space and another move occurred from Bolivar Road to West Ninth Street. The West Ninth location had 110,000 square feet of instruments, accessories, sheet music, and books making Grossman one of the largest distributors in the USA at the time.
Upon the sale of Rogers, Grossman continued to manufacture drums and hardware under the Duplex name, eventually making the decision to discontinue the drum line and put more focus on accessories, such as snares, beaters, slings, cymbal pads, and drum practice pads which can still be found under the Duplex name.
1979
1st Note Brand Developed
In 1979, Dann Skutt, the Vice President of Grover, developed the 1st Note® brand by marketing and selling novelty, musical and educational items, through an extensive network of Toy Sales Reps throughout the country.  Some of these fun items include the Noseflute, Slide Whistle, and Kazoos!  Through Dann's passion and networking skills, 1st Note® is still a major part of the company's success to this day.
With times changing and the manufacturing end of the business growing, the decision was made to discontinue the wholesale division and concentrate solely on manufacturing and proprietary items. To streamline the business, another move was made to Kelley Avenue in the Midtown section of Cleveland in 1991.
1998
The Clevelander Drum Company Joins the Family
In 1998 The Clevelander Drum Company was purchased from a percussionist of the Cleveland Symphony Orchestra. The company offers a full line of various style mallets and beaters for Marimba, Xylophone, Vibraphone, Glockenspiel, Timpani, Marimba, Bass Drum, and Tim-Tom, all hand made in Cleveland, Ohio, with the finest materials available. Other percussion accessories such as Cow Bells and Temple Blocks are also available, with additional items being added to the line.
2013
Grover Moves Home
In 2013, Grover Musical Products moved to their current location on Midwest Avenue in Cleveland, Ohio.
2021
Grover/Trophy Today
Today, Grover/Trophy® is best known for its full line of tuning machine heads, musical accessories, educational and novelty items.
All the companies under the Grover Musical Products umbrella are proudly run by the fourth generation of the Berger family, who will continue to innovate, explore new ideas, and adapt to an ever-changing musical marketplace.
Thank you for supporting us over the past 100 years and we look forward to continue serving you in the future.